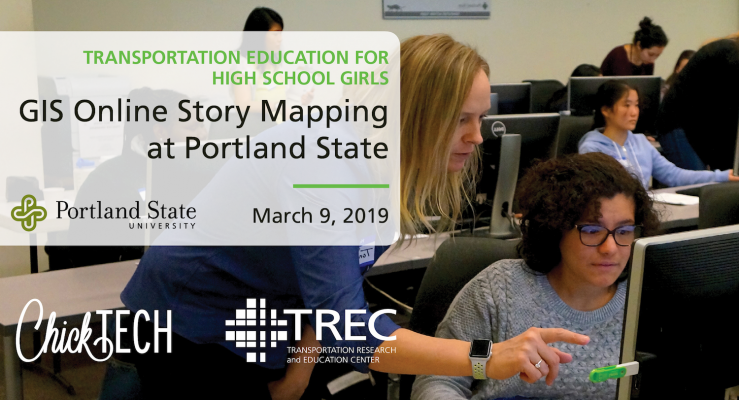 DATE:
Saturday, March 9, 2019,

10:00am

to

4:00pm

PST
LOCATION:
ITS Lab at Portland State University (Room 315 of Engineering Building) - 1930 SW 4th Avenue, Suite 200, Portland, OR
This annual event is hosted at Portland State University by event partners Transportation Research and Education Center at PSU and ChickTech
OVERVIEW
Mapping and spatial analysis has been evolving as an important field of study for centuries. In contemporary times, we refer to it as "GIS", which stands for Geographic Information Science. Join us at this one-day workshop for high school girls to become familiar with creating and interpreting maps and doing spatial analysis, by working with vehicle crash data from the City of Portland. 
The workshop, held in the Intelligent Transportation Systems (ITS) lab of PSU's Engineering Building, consists of a morning instruction session and an afternoon applied activity using your newfound GIS skills. Students will be introduced to the basic elements of ArcGIS — including importing data, exploring spatial databases, and visualizing data in different ways through map design. Students will get to make their own interactive web maps using data from their city and neighborhoods.
The day also includes a walking tour of the Portland State University campus to get a real world look at how the transportation issues we learn about in class play out on the ground. By the end of the day you will have a working understanding of GIS and mapping and new ideas for how you can apply them to your city! 
This event is FREE (limited capacity, pre-registration required) and open to female and female-identified students currently in high school.
"Everyone has a story to tell. Harness the power of maps to tell yours." - esri
WORKSHOP AGENDA  
| | | |
| --- | --- | --- |
| TIME | ACTIVITY | INSTRUCTOR |
| 10:00 - 10:10 | Check-in (coffee + granola bars) | Michael |
| 10:10 - 10:30 | Ice Breaker & Intro to Transportation | Tamara, Lisa, and Sachi |
| 10:30 - 12:00 | Intro to ArcGIS Online Mapping | Sachi |
| 12:00 - 12:45 | Lunch and Networking | |
| 12:45 - 1:45 | PSU Campus Walking Tour / Data Collection | Sachi |
| 1:45 - 3:30 | Build Your Own Story Maps | Lauren, Randy |
| 3:30 - 4:00 | Wrap up / Survey | Lauren, Tamara |
INSTRUCTORS
Sachi Arakawa, Community Geography, Institute of Metropolitan Studies, Portland State University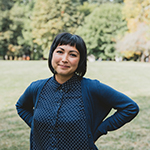 Sachi's background is in Geography and GIS and she has been making maps for a living for the last four years. She just finished her master's degree in Urban Planning at Portland State University, where she learned about the importance of equity in transportation planning. Sachi loves to nerd out about maps and can't wait to share some of her favorite maps with the class! 
Lauren McKinney, Geography, Portland State University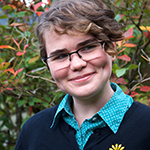 Lauren McKinney is a student of GIS and Geography at Portland State University. She has a GIS certificate from Portland Community College, and currently works there part time as a tutor. Lauren also works part time at the City of Hillsboro in the Transportation Department making maps and doing analysis. In her free time Lauren enjoys skateboarding, reading sci-fi, and watching Star Trek.
Randy Morris, Institute of Metropolitan Studies, Portland State University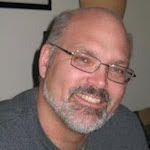 Randy Morris is the Community GIS Project Leader at Portland State University's Institute of Metropolitan Studies, and was most recently published as a lead cartographer in Portlandness: a Cultural Atlas. Currently, he heads the IMS Neighborhood Pulse project. As a geography and GIS instructor, Randy always delights in introducing people to the field and tools of geography, as well sharing his love of cartography. Randy has a Master's degree in Geography from Portland State University.
Lisa Patterson, Technology Transfer & Workforce Development Program Manager, TREC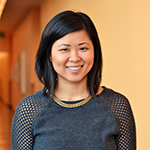 Lisa enjoys working with researchers, students, faculty and practitioners to create a transportation community and network that connects our research with practice and fosters the development of current and future transportation professionals. She graduated from PSU with a masters in Civil Engineering and worked in the transportation and construction management industry for 7 years before returning to PSU to work at TREC. Her passion for professional development and student success also shows through her board involvement on WTS and ITE, transportation professional organizations and Minds Matter Portland, an after school program for accomplished high school students from low income families. In the evenings and weekends, you'll find her chasing after her three kids (two dogs and a toddler), playing volleyball, running, taking random art classes or trying new local restaurants.
Questions?  Contact us at asktrec@pdx.edu
Learn more about our K-12 Outreach and Education offerings.
---
EVENT PARTNERS
This event is co-hosted by TREC and ChickTech.
Transportation Research and Education Center (TREC)
TREC at Portland State University is home to the National Institute for Transportation and Communities (NITC), the Initiative for Bicycle and Pedestrian Innovation (IBPI), and other transportation programs. TREC produces research and tools for transportation decision makers, develops K-12 curriculum to expand the diversity and capacity of the workforce, and engages students and young professionals through education.
ChickTech
ChickTech is a national organization serving thousands of girls and women every year through tech programs and events. They facilitate hands-on technology-centric events and programs to empower, support, and increase the confidence of women and girls. Through events, they build community, empower participants to see themselves as leaders, and provide networking and mentoring opportunities in the rapidly growing high tech industry. ChickTech envision a safe, inclusive, and innovative technology future that includes equal pay, participation, and treatment of women. They are dedicated to retaining women in the technology workforce and increasing the number of women and girls pursuing technology-based careers.
ADD TO CALENDAR