Agencies pool with TREC for safer protected bike lane intersections
Posted on March 31, 2016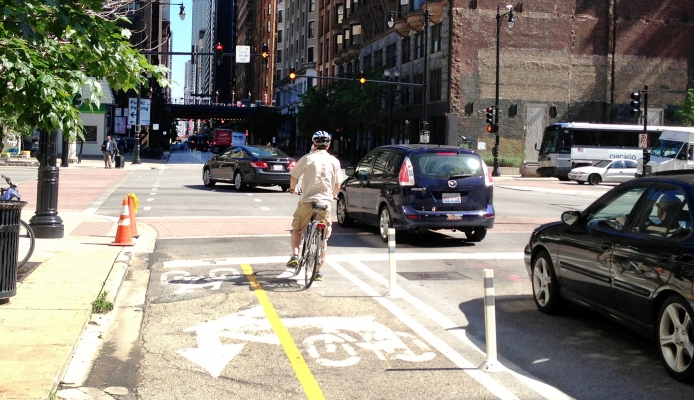 Protected bicycle lanes have gained popularity as a safer way to get more people cycling. Earlier research from the Transportation Research and Education Center, TREC, at Portland State University showed that people feel safer in lanes with a physical barrier between bicycle and motor vehicle traffic.

The research hadn't closely studied the intersections, where the barriers—and the protection they offer—go away. With little research guidance, agencies across the country could face the prospect of using untested approaches or avoiding protected lanes altogether.

TREC, through its National Institute for Transportation and Communities pooled-fund program, is now addressing intersections for protected lanes. The program lets agencies and interested partners invest small amounts to join research with a national impact. For this project, 11 partners each put $5,000 to $50,000 toward the $250,000 cost.

The project will help agencies decide which intersection treatments to use in which cases, and what elements each should include. Toole Design Group will work with the Portland State research team to tailor the results to practitioners.
 
"Right now, it's based on their judgment," said Christopher Monsere of Portland State University, the project's lead researcher. "We'd like to provide them a little better guidance based on data." The Portland State team also includes Jennifer Dill and Nathan McNeil.
Under a policy directive from Transportation Director Leah Treat, Portland Bureau of Transportation has since last fall considered protected bike lanes the default design for bike lanes on busy streets. PBOT Bicycle Coordinator Roger Geller sought out TREC for clear and consistent guidance. "In working with our traffic engineers, we collectively recognized this was a gap in the knowledge and it would be great to figure it out," he said.

Another partner, Cambridge, Massachusetts, claims the first true cycle track in the U.S. and continues to add protected lanes to various street configurations. Cara Seiderman, the city's transportation program manager, wants clearer guidance on the safest and most comfortable designs to use with each.

"We've been using our best engineering judgment, and the best practices that exist," Seiderman said. "And we realized that that could be even stronger."

The project also includes county, regional, transit and nonprofit partners, including the SRAM Cycling Fund, which promotes cycling to a broader audience. "It was a very cost effective way for us to be involved in a big piece of public investment," said Director Randy Neufeld.

Portland's regional transit authority, TriMet, is also a partner. Because busy bikeways and frequent bus routes often overlap, planners need to make sure buses can get to stops along protected bike lane intersections, said Jeff Owen, active transportation planner for TriMet. "This is an attempt to make sure we're part of the conversation," Owen said.

The project will create a standard tool agencies across the country can use, and may inform influential national design guidebooks. The partners involved show the need for such a project, said Portland's Geller.

"I'm mostly excited that people from a lot of jurisdictions around the country are contributing," he said. "It reflects the level of interest and demand for this kind of information."
Visit the project page, "Contextual Guidance at Intersections for Protected Bike Lanes."
More information on the NITC pooled-fund program is at http://nitc.trec.pdx.edu/funding/pooled-fund-research.
Share this: