Ann Niles lecture series brings world-class transportation speaker to Portland State
Posted on July 16, 2013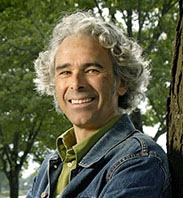 The Ann Niles Transportation Lecture series opens Aug. 26 with a lecture from Jean-François Pronovost of Vélo Québec titled "Growing a World-Class Cycling Culture: Lessons from Québec." The series is sponsored by the Ann Niles Transportation Lecture Endowment and serves as a legacy to Ann Niles, an advocate for livable neighborhoods.
Philip Niles created the endowment with a gift to the Initiative for Bicycle and Pedestrian Innovation, or IBPI, in honor of his late wife. Ann Niles was a strong advocate for livable neighborhoods and served on many transportation-related boards and committees in Portland.
The lecture series keeps alive the spirit of Ann Niles' advocacy. Niles pushed for better sidewalks and crosswalks to make Portland a safe and comfortable place to walk, and for bicycle routes and parking to do the same for bicycling.
"This inaugural Ann Niles Transportation Lecture, and all those that follow, help spread Ann's passion for creating livable neighborhoods to students, practitioners and the greater community," said OTREC Director Jennifer Dill.
The series' first speaker, Pronovost, has helped bring active transportation into the lives of people in communities across Québec. As vice president for development and public affairs for Vélo Québec, he helps develop new projects and partnerships.
One of the most notable projects for Vélo Québec is La Route Verte (The Green Route), a 5,000-kilometer-plus bicycle route across Canada's largest province. La Route Verte crosses rural areas, towns and cities and incorporates all types of bikeways.
The route got its start in 1992, when Pronovost was organizer of the Velo Mondial conference. There, Vélo Québec presented a vision and plan for what cycling could be at the turn of the century. The efforts paid off in 1995, with the provincial government investing $88.5 million and tasking Vélo Québec to plan and build the route. La Route Verte is now the most extensive bike route in North America.
Pronovost has helped launch active transportation initiatives with schools and municipalities. He has written books on hiking, cycling and science and has edited technical publications including the Technical Handbook of Bikeway Design. Trained as a biologist, Pronovost has worked as a nature guide, journalist and television commentator.
The lecture is free and co-sponsored by the Portland State University School of Music. Details are at: https://trec.pdx.edu/OTRECUS/events/entry/niles_lecture_pronovost
IBPI is a program of OTREC at Portland State. The Ann Niles Transportation Lecture Endowment furthers IBPI's mission to facilitate the exchange of knowledge among scholars, practitioners and community advocates around active transportation. More information is at: http://www.pdx.edu/ibpi/the-ann-niles-transportation-lecture-series
Share this: