Portland State University takes Seattle bike symposium by storm
Posted on June 26, 2013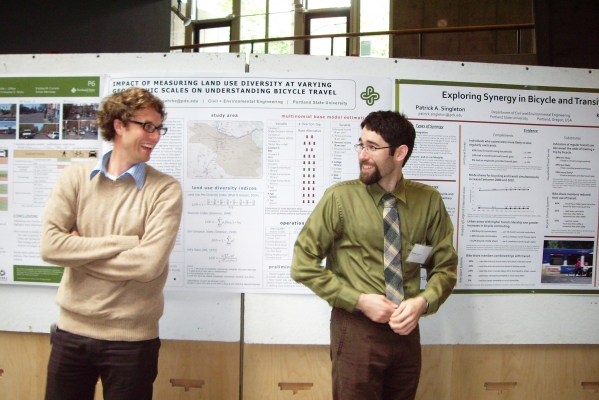 Portland, Oregon is known for being a bike city, even called America's Best Bike City by Bicycling Magazine, so it's no surprise at all that Portland State University is full of bike enthusiasts.
Nowhere was that more clearly demonstrated than in Seattle last week, when 14 students and faculty from Portland State turned up to present their research at the International Bicycle Urbanism Symposium.
The Symposium, held on June 19-22 at the University of Washington, explored ways to plan cities around biking. There were international plenary panelists from China, The Netherlands, and New Zealand to offer a look at urban cycling around the world, and a mixture of research into bike-related planning efforts in the United States. 
Knowing the number of bicycles that cruise through an area on any given day can be important for policy decisions; for example, an intersection with a high amount of bike traffic might warrant a bike signal.
All of the PSU attendees enjoyed the symposium as a chance to get together with fellow bike-lovers and talk about cities of the future. For Nordback, one of the best aspects of the event was its size: small. "You could keep running into the same people," she explained, "so you could really build relationships. There was a really great energy to it. I hope they do it again next year." The symposium focused on long-term planning, with a vision of increased bicycle infrastructure in urban areas within the next 20-30 years.
Share this: