Bicycle Accessibility Measures: Advancing Equitable Economic Benefits through Urban Greenways
Posted on August 23, 2018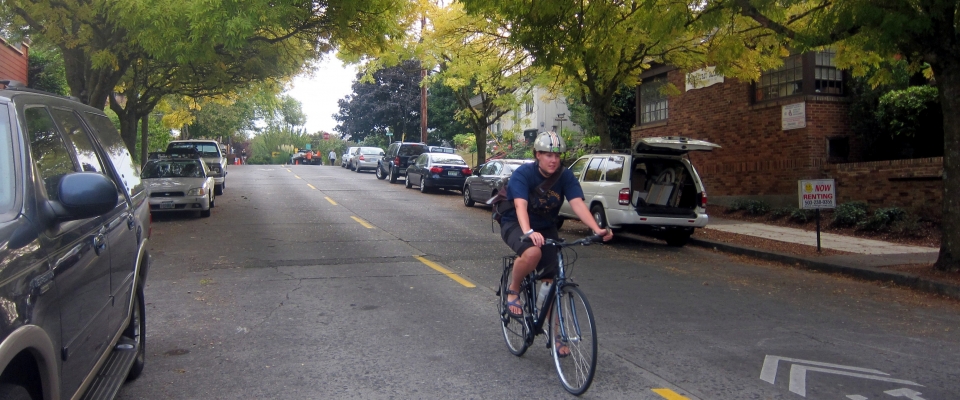 Principal Investigator:
Jenny Liu
, Portland State University
Learn more about this research by viewing the Executive Summary and the full Final Report, or watching the January 2018 seminar on the Project Overview page.
---
Portland, Oregon's 2035 Comprehensive Plan calls for "City Greenways" - a citywide network of park-like streets focused on moving pedestrians and bicycles safely. Such a connected network of safe, welcoming active transportation options could have significant benefits for residents—but which residents?
Benefits of bike and pedestrian infrastructure include environmentally sustainable transportation, livability, and improvements in economic development and public health. While these outcomes are well documented, it is also known that both transportation and environmental amenities are typically unevenly distributed in the urban context. Studies show that those who are the most socioeconomically disadvantaged (for example, low income people and people of color) are also those who disproportionately experience transportation disadvantages. 
A newly published study led by Jenny Liu of Portland State University establishes several approaches to evaluating the transportation accessibility, economic and social equity impacts of Portland's 2035 "City Greenways" network. Through this work she developed and defined several "bicycle accessibility measures" (BAMS) that can be used to prioritize future improvements to any urban greenway network.
The three sets of BAMs incorporate different components of a comprehensive bicycle network:
Distance-based BAM: measures accessibility of the active transportation infrastructure via a proximity measurement
Destination-based BAM: measures the ease of access to the closest five important employment, retail, service and parks/recreation destinations
Low-stress network-based BAM: measures users' comfort levels and willingness to use active transportation modes as a travel option, incorporating bicycle level of stress factors to determine the overall accessibility of the urban greenway network.  
Characterizing bicycle accessibility on a network level, instead of simply counting miles of trails/lanes, is important to improve the experience of the traveling public. Evaluation should include not only built environment characteristics, but also the ability for users to access important destinations. Moreover, social equity outcomes are a crucial component of this type of bicycle network evaluation.
Strategic, multimodal investments like this can reduce transportation costs and advance economic growth. Certain types of accessibility measures are better than others in understanding how urban greenway network infrastructure can contribute to economic outcomes. 
Want more detailed information about this research? Watch the Friday Transportation Seminar presentation given by Liu in January 2018. Liu also gave a webinar in April 2017 in which she focused on the residential property value impacts associated with advanced bike facilities.
This research was funded by the National Institute for Transportation and Communities, with additional support from the Portland Bureau of Planning and Sustainability and Portland State University.
RELATED EVENTS
RELATED RESEARCH
To learn more about this and other NITC research, sign up for our monthly research newsletter.
The National Institute for Transportation and Communities (NITC), one of five U.S. Department of Transportation national university transportation centers, is a program of the Transportation Research and Education Center (TREC) at Portland State University. The NITC program is a Portland State-led partnership with the University of Oregon, Oregon Institute of Technology, University of Utah and new partners University of Arizona and University of Texas at Arlington. We pursue our theme — improving mobility of people and goods to build strong communities — through research, education and technology transfer.
Share this: