Three Oregon Students Earn Prestigious WTS Portland Scholarships
Posted on February 1, 2022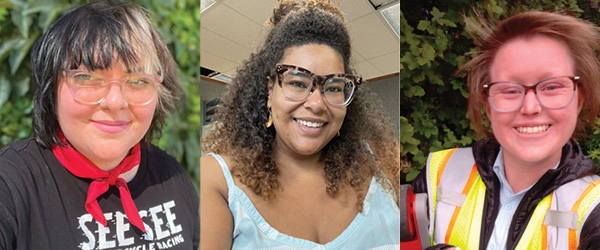 Three students from partner universities in the National Institute for Transportation and Communities (NITC) have been awarded WTS Portland scholarships. Congratulations to Caroline Crisp of Portland State, and Cynthia Roe and Caroline Schulze of Oregon Tech!
The WTS Portland Chapter, established in 1985, offers six annual scholarships to high school seniors, junior college, undergraduate, and graduate students to support women seeking leadership opportunities and pursuing transportation careers. This is a highly competitive scholarship with applicants from colleges and universities throughout Oregon and Washington.
All of the WTS Portland scholarship awardees will be honored in a formal awards ceremony via Zoom on February 10, 2022 (5 - 6 PM Pacific).
Caroline Crisp, Portland State University
2021-2022 WTS Portland Beverley Swaim Leadership Legacy Graduate Scholar
Caroline received their bachelors from the University of Oregon (earning a 2017 NITC scholarship as well during their time there), and found multiple ways to contribute to the transportation community in Oregon. They were a Safe Routes to School volunteer, a Bike Camp/Club Coordinator for the Community Cycling Center, a team member on the Greenway Master Plan for the City of Independence through the Better Block PSU program, as well as taking on multiple roles for The Street Trust. As a participant in the 2019 Portland Traffic and Transportation Class co-hosted by the City of Portland and Portland State University, Crisp identified Portland's Wall and Fessenden intersection as the focus of a class project, because they live and ride in the area. That project eventually led to a new bike-friendly treatment for the intersection; learn more in BikePortland's coverage of the project, or in an August 2021 KGW News interview with Caroline. 
As an equitable planning and GIS intern for ODOT, colleagues in Region 2 praised the professional contributions and inherent leadership qualities that Caroline provided. Caroline's emphasis on equitable transportation is highlighted by their work to develop ODOT Planning's Social Equity Toolkit, which should position the Agency to better incorporate feedback from BIPOC communities and vulnerable roadway users into future work, advancing broader equity goals and providing tools for others to perform best-practice outreach techniques. Caroline hopes their future in transportation includes advocating for accessible transportation and working to make micro mobility a reality.
Cynthia Roe, Oregon Tech
2021-2022 WTS Portland Gail Achterman Leadership Scholar
2021 NITC Student Spotlight interview
.
A first generation college student and a native of Weed, California, Cynthia has been pursuing a dual-track path at the Oregon Institute of Technology that will culminate this spring in a Bachelors and Masters of Science in Civil Engineering with a focus in transportation. Cynthia has served in a leadership or service role in every year she has been at Oregon Tech. In addition to her work with the ITE Student Chapter, she served as the 2019-20 president of the American Society of Civil Engineers-Associated General Contractors Student Chapter and also as a peer consultant in the Oregon Tech Student Success Center. Civil Engineering graduate program director Roger Lindgren points to the AGC-ASCE board of mostly women as a testament to Cynthia's efforts to recruit and support outstanding female students to serve. 
WTS selects scholars in part based on their committment to achieving equity within communities and the transportation sector. Cynthia's professor and academic advisor noted her ability to move beyond traditional traffic engineering evaluation techniques to try to capture how racial, gender and socio-economic profiles affect driver yielding behavior in her graduate research. Cynthia's own lived experience has helped her recognize the importance of crafting safe and equitable transportation systems as a way to ensure all people can use designed systems no matter their physical ability, socioeconomic status, or neighborhood.
Caroline Schulze, Oregon Tech
2021-2022 WTS Portland Sharon D. Banks Scholar
Caroline's work as an intern with GRI working on pavement inspection and soil testing sparked her interest in the transportation industry and allowed her to recognize the role of transportation engineers in the "real world."  She understands that infrastructure projects can impact the surrounding community and the importance of community engagement. Caroline expects to graduate from OIT in 2023 with a BS and MS in civil engineering.
---
The National Institute for Transportation and Communities (NITC) is one of seven U.S. Department of Transportation national university transportation centers. NITC is a program of the Transportation Research and Education Center (TREC) at Portland State University. This PSU-led research partnership also includes the Oregon Institute of Technology, University of Arizona, University of Oregon, University of Texas at Arlington and University of Utah. We pursue our theme — improving mobility of people and goods to build strong communities — through research, education and technology transfer.
Share this: