Spring 2022 Graduate Courses in Transportation at Portland State
Posted on February 16, 2022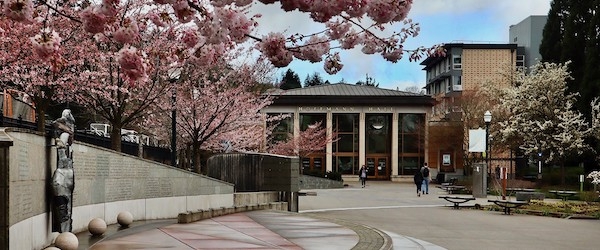 The Spring term at Portland State University starts March 28, 2022, and registration opens March 7 for non-degree students. (Students who are already enrolled in a PSU degree program can register online now.) Lifelong learning is a guiding principle of PSU, and anyone interested can take transportation courses through the non-degree application process or as a post-baccalaureate student. Taking a course can be a good way to see if one of our graduate degree programs is right for you.
See PSU's COVID-19 Student Resources for the latest information regarding the return to campus and PSU's ongoing response to the pandemic.
Civil and Environmental Engineering
Non-degree or non-PSU students should contact the Civil Engineering Academic Program Manager at ceedept@pdx.edu in order to register for a CEE course, as the system requires an approval to process the registration.
493/593 Design and Operations of Bike & Pedestrian Infrastructure
Prerequisites: CE 351 with a grade of C- or higher.
Delivery: In Person, Mon/Wed 10:00 AM
Design and operational concepts in the engineering design of bicycle and pedestrian infrastructure. Course covers on-road and shared path locations. Specific topics include design details of bikeways, basic geometric design, intersection and signalization considerations, and ADA requirements supporting non-motorized modes.
563 Transportation Optimization
Prerequisites: Graduate standing
Delivery: In Person, Tues/Thurs 10:00 AM
Introduces students to mathematical modeling techniques including linear and non-linear programming, duality, Lagrangian, quadratic and geometric models, integer programming, basic network models and their application to transportation and logistics systems/problems. The focus is on model formulation, complexity analysis, and the utilization of software to obtain solutions and analyze system properties. The concepts taught in this course focus on civil engineering systems/ applications with an emphasis on transportation and logistics problems. 
Urban Studies and Planning
634 Data Analysis (Lab and Lecture)
Recommended prerequisites: USP 430 and USP 532. The laboratory (USP 634L) must be taken concurrently.
Delivery: In Person, Tues 9:00 AM
Application of multivariate statistical analysis in an urban context. Emphasis on applications of various techniques within the general linear model.
515 Economic Applications to Urban Studies
Delivery: Attend Anywhere, Mon/Wed 4:00 PM
Microeconomic analysis of individual and firm behavior is developed with emphasis on applications to urban studies. Topics which may be covered include: land use and land rents, urban structure, poverty, housing and slums, transportation, environmental quality, and local government finance.
548 Public Transportation Planning
Delivery: In Person, Wed 1:00 PM
Public transit ridership and investments have been growing for the past two decades as regions around the world grapple with worsening congestion, growing concerns about climate change, health, and social equity, and a reinvigoration of urban living and sustainable lifestyles. This course will introduce students to processes, policies and rules concerning the planning of public transit systems and the development of new transit investments, focusing mostly on buses and light rail.
570 Transportation and Land Use
Recommended prerequisites: USP 515 and 544
Delivery: In Person, Mon 10:00 AM
An analysis of transportation and land use interactions in urban areas. The impact of highway and transit changes on travel behavior, locational decisions, and urban form are examined. 
Friday Transportation Seminars
Friday Transportation Seminars at PSU, though only offered as a for-credit class in the Fall term, still sporadically occur and are open to the public during the Winter and Spring terms! You can always find upcoming seminars on the TREC website.
Graduate Certificate in Transportation
The two disciplines, planning and engineering, also collaborate to offer a Graduate Certificate in Transportation for established professionals looking for a deeper understanding of transportation disciplines. Increasingly, transportation professionals need multi-disciplinary knowledge and skills to anticipate social, environmental, and technological trends and incorporate them into intelligently-integrated transportation systems. The Graduate Certificate in Transportation will offer you advanced education at the intersection of urban planning and civil engineering for those seeking to build upon their knowledge and credentials to move people and goods safely.
Photo courtesy of Portland State University Flickr
The Transportation Research and Education Center (TREC) at Portland State University is home to the National Institute for Transportation and Communities (NITC), the Initiative for Bicycle and Pedestrian Innovation (IBPI), and other transportation programs. TREC produces research and tools for transportation decision makers, develops K-12 curriculum to expand the diversity and capacity of the workforce, and engages students and professionals through education.
Share this: