Experiential Learning in Transportation: TREC Scholarships at PSU
Posted on November 21, 2019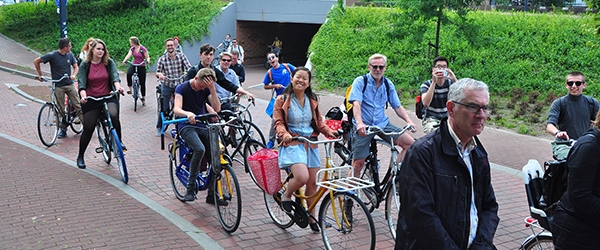 In celebration of Portland State University's Day of Giving on December 3rd, we're devoting our efforts this year to raising funds in support of experiential learning opportunities through travel scholarships for transportation students.
TREC Experiential Learning Scholarships are part of a new initiative to broaden our student impact beyond our hands-on experience in research and support of PSU's Students in Transportation Engineering and Planning (STEP). We want to support immersive, experiential trainings outside of the Portland metro region. Introducing students to people and learning opportunities in other states and countries will allow them to bring innovative transportation concepts back to Portland, Oregon. This includes our flagship study abroad program: "Sustainable Transportation in the Netherlands" which will be held again this summer June 21 - July 4, 2020.
DONATE TO THE TREC SCHOLARSHIP
===
LEARNING THROUGH EXPERIENCE
Hear from the 2019 PSU study abroad cohort on their travels through the Netherlands in Utrecht, Rotterdam, Houten, Amsterdam and more. See photos from their 2019 travels here.
"When I started my urban planning education, I didn't understand or appreciate incremental change. I envisioned grandiose plans and whole system reconstructions. ....To counter my assumptions, in the Netherlands, we are learning about how so much of the larger "grandiose plans" and "whole system reconstructions" here are all about marginal improvements. For example, prioritizing linkages that build more complete networks, segregating modes, reducing parking, and lowering street speeds on the block-level are strategies that the Dutch used to go from Amsterdam's vehicle-dominated roads of 1960s and 70s to its famous "bicycle utopia" streets of today. It was smart planning for incremental change to the urban landscape in conjunction with advocacy, cooperation, lobbying, and diplomacy. All these parts make a whole, and the Dutch have taught us to not lose sight of the forest for the trees." — Brittany Quale, 2019 Study Abroad Participant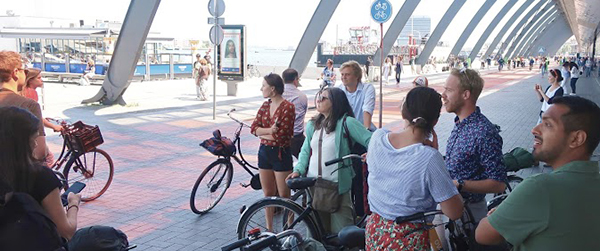 Photo by Jason Nolin
"In Bicycle Network Planning & Facility Design Approaches in the Netherlands and the United States, the Federal Highway Administration describes how trust plays a strong role on Dutch roads. Pedestrians, cyclists, motor bikers, and car drivers all mix on the same system, often on the same narrow road, and all trust one another to be safe and predictable. This is highly visible in Amsterdam... I tried to find a stop sign somewhere — there were none. Instead, Amsterdam uses yield markings and the occasional signalized intersection. Yield markings are a great symbol of trust: they rely on road users to observe the road, judge the people coming and their timing, and make a decision that will impact others." — Jason Nolin, 2019 Study Abroad Participant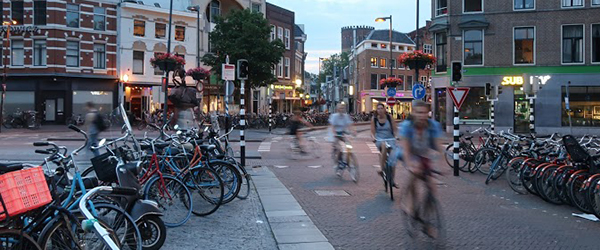 Photo by Jason Nolin
"Robert from the municipality of Utrecht gave our group a wonderful discussion about the culture of Dutch cycling. While the Dutch generally appreciate the health and environmental benefits of cycling, Robert repeatedly stressed that the Dutch are normal human beings–not saints or otherwise especially motivated by moral imperatives to cycle. They just do what is easiest in commuting, and most often, the bicycle is what makes the most sense! It is obvious throughout the city that parents enjoy teaching their children that the tool they use to get around is the bicycle. It is visibly evident in the number of children riding seated in front of or behind their cycling parents. As soon as their children have outgrown the child seats, they are bicycling alongside their parents."  — Katherine Keeling, 2019 Study Abroad Participant
"It took us double the time to get to pick up our rental bikes because we kept stopping, taking photos, filming, and in general being in awe of the concentration and flow of commuters. The Dutch use the bicycle in a very different way than we do in the US. Without helmets, without spandex, they use the bike as a functional means of moving, rather than for sporting... One of my goals for this trip is to bring  some Dutch inspiration back to Portland and to the US in general. In particular, I'm interested in how road design for bicycling can appeal to not just the "strong and fearless" spandex riders, but to every day people making every day trips." — Kerry Aszklar, 2019 Study Abroad Participant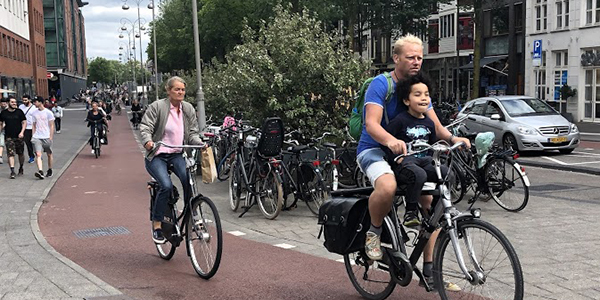 Photo by Kerry Aszklar
"Houten is designed so that only bicycles can enter the city center (w/ the exception of emergency vehicles)...I t was designed in such a way that it would take longer to travel across the town by car than by bike, to encourage active transportation. ... We took off [on our self-guided tour of Houten] and were immediately engulfed in fear of getting lost. The red roads were wickedly twisted. After departing the group in haste I paused to review the crude map provided and became more lost. After continuing on I quickly realized there was no fear necessary, the town was quite small with high mobility (in fact I ran into other classmates several time while exploring)." — Christopher Stepovich, 2019 Study Abroad Participant
Scholarships and Student Support
See below for a few more thoughts from some of our 2019 - 2020 TREC / IBPI scholars on the impact that student support and funding opportunities have made on their careers.
"The Alta Planning + Design scholarship and internship has been an amazing opportunity for which I am very thankful. It has allowed me to enter my graduate studies and not only be immersed among incredibly sharp and inspiring students and professors but also among mentoring professionals in the field I am pursuing. The unique combination of scholarship and internship was a primary reason why I chose to move to Oregon and attend PSU over other institutions. Being able to study urban planning while simultaneously interning in a professional setting has helped me more fully understand the theory and skills that I am acquiring at each; the two areas are mutually reinforcing my understanding of urban systems and how change happens in the real world, and I think I'm becoming a better planner because of it." — Philip Longenecker, 2019/2020 Alta Planning + Design Scholarship and Internship recipient
"Getting to work with Dr. Kelly Clifton's SUPERLab here on campus has been an incredible experience, because our work is directly informing City policy and aiming to make cyclists and pedestrians a more important part of the conversation surrounding transportation." — Gabby Abou-Zeid, 2019/2020 TREC scholarship recipient
"I feel incredibly fortunate for support from the Transportation Research and Education Center. Thanks in part to scholarships such as the Excellence in Active Transportation, I've been able to manage the cost of tuition without taking out additional loans. This means I can focus on advancing my knowledge and career instead of having to focus on how I'll pay for it." —Briana Orr, 2019/2020 IBPI Excellence in Active Transportation Scholarship recipient
The Transportation Research and Education Center (TREC) at Portland State University is home to the National Institute for Transportation and Communities (NITC), the Initiative for Bicycle and Pedestrian Innovation (IBPI), and other transportation programs. TREC produces research and tools for transportation decision makers, develops K-12 curriculum to expand the diversity and capacity of the workforce, and engages students and professionals through education.
Share this: