Fifth annual Oregon Transportation Summit drew a crowd of transportation professionals
Posted on September 23, 2013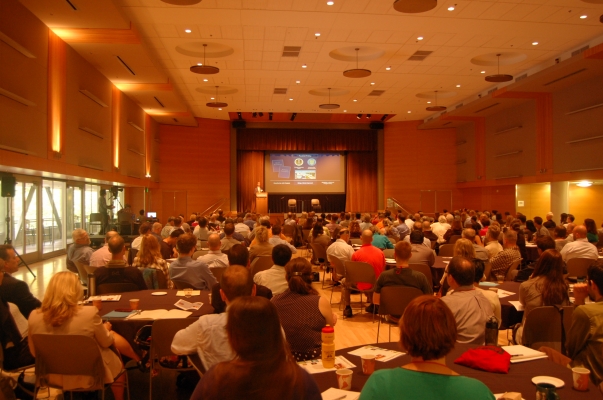 OTREC was proud to bring about the fifth annual Oregon Transportation Summit on Monday, September 16, with the help of the Portland Chapter of the Women's Transportation Seminar, the Oregon Chapter of the American Planning Association, and the Oregon Section of the Institute of Transportation Engineers.
The OTS is the Pacific Northwest's premier transportation conference. It brings together Oregon's academic and practicing transportation professionals to advance the state of the art by accelerating new research into practice and shaping the agenda for future research.
This year's summit featured keynote speaker Taras Grescoe, author of the book Straphanger. Grescoe shared his insights as an extensive traveler, speaking about the "debasement of public space" that he believes has been brought on by the culture of the automobile.
The plenary speaker, Adie Tomer of the Brookings Institution, offered some insights on MAP-21, a new act which was passed by Congress in 2012. Short for "Moving Ahead for Progress in the 21st Century," the act redistributes the scope and responsibilities of transportation departments in the US.
OTREC's education and technology transfer program manager Jon Makler, the summit's coordinator, was pleased with the attendance and positive energy of this year's summit.
Student research from all four of OTREC's partner universities was on display, with research posters and student presenters available to answer questions. Morning and afternoon sessions included panels on transit fare equity, sustainability, urban freight data and bus rapid transit.
PSU professors Jennifer Dill and Chris Monsere, in a session titled "What's Black and White and Green All Over?" described research into the improvement of bicycle and pedestrian infrastructure. John Ivan of the University of Connecticut and Drusilla van Hengel of Alta Planning & Design also presented some analyses of the various factors involved in creating safe environments for cyclists and pedestrians, while maintaining traffic flow for cars. Research findings indicated, for example, that residential neighborhoods with buildings set back further from the road often experience higher traffic speeds than downtown areas with roadside parking, and this affects policymakers' decisions about the type and placement of bike lanes.
Stephanie Lotsaw of the Institute for Transport & Development Policy had a unique perspective on the current state of BRT, or Bus Rapid Transit. Lotshaw has been involved with implementing Bus Rapid Transit in developing countries, and with developing The BRT Standard as a planning, policy and evaluative tool. She described various BRT systems that have been created since the first in Curitiba, Brazil in 1974, and ranked them gold, silver or bronze based on their functionality.
At the Summit's conclusion, OTREC presented its annual awards to recognize those who have made a difference in the transportation field. Drive Oregon was named OTREC Partner of the Year, having leveraged over $120,000 of research for OTREC projects and focused on building research and educational expertise in electric vehicles within the Oregon University System.
Miguel Figliozzi was named Researcher of the Year, having been the principal investigator on 12 OTREC projects, totaling over $1.2 million. Figliozzi conducts multimodal research on electric and new vehicle technologies, emissions and air quality modeling, non-motorized modes, freight and logistics, and transit and traffic operations.
The Congressman Peter DeFazio Transportation Hall of Fame Award was presented to State Senator Bruce Starr, who has a demonstrated commitment to improving Oregon's transportation network.
For more information about this year's summit, or to browse the archives of material from past summits, visit the Oregon Transportation Summit home page.
Share this: