A Decade of IBPI Workshops Trains Over 550 Active Transportation Professionals
Posted on October 4, 2018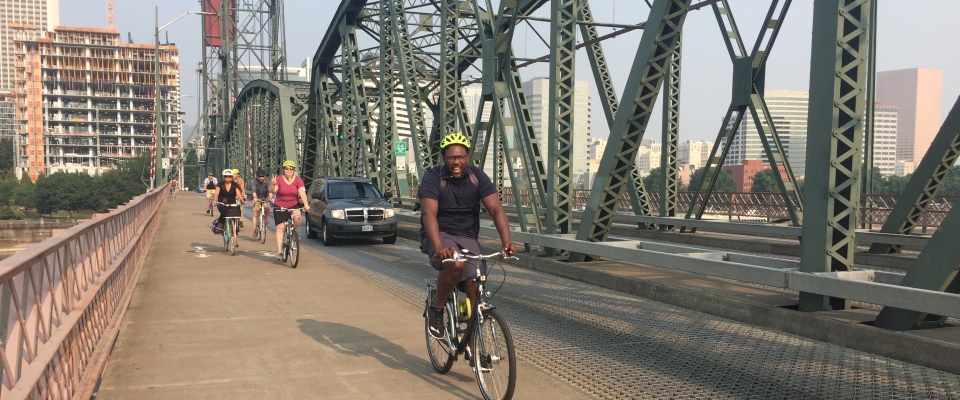 Through our long-standing program, the Initiative for Bicycle and Pedestrian Innovation (IBPI), we convene Portland's leading experts to teach multi-day workshops for active transportation professionals looking to hit the ground running (or cycling!) as they design multimodal options in their communities. We've been teaching these essential design skills for over a decade now, and have tutored over 550 professionals, from 34 states and 5 countries with many success stories. These intensive, immersive learning opportunities serve as a valuable source of knowledge, connections, and inspiration to each cohort, so let us know if you'd like to be notified about our 2019 IBPI workshops and study abroad program.
Now in our 7th year hosting this two-day workshop, it enables planning and engineering faculty to overcome the limits of traditional, car-centric curriculum to be inclusive of emerging topics in bicycle and pedestrian design. Educators leave with a portfolio of materials, activities and resources to broaden their course design into a multimodal perspective. Led by Dr. Chris Monsere, department chair and associate professor of civil and environmental engineering at Portland State University, current and aspiring faculty members took much of the learning outside on bicycle and pedestrian field tours (see photos from 2018). Local practitioners—Drusilla van Hengel of Nelson/Nygaard, Mike Rose and Derek Abe of Alta Planning + Design, and Peter Koonce of the City of Portland—provided valuable insights on what materials would best meet the needs of future planners and engineers.
Comprehensive Bikeway Design is our flagship IBPI workshop, and longest running - ten years! Consistently drawing planners and engineers who want to expand and enhance their community's bikeway network, this course covers the fundamentals of bikeway design and planning through an intensive week of interactive classroom, field tours, and design exercises. Participants saw Portland's infrastructure firsthand on field tours, and met with the professionals who designed it during classroom lecture time. You can see this workshop's photo album here.
Bikeway Design was taught by many of the experts who were instrumental in creating the Portland metro area's active transportation network. PBOT supplied Roger Geller, its longtime bicycle coordinator, and Nick Falbo to share insights about setting context for bicycle facility design. PBOT's Peter Koonce introduced the group to traffic engineering techniques that support active transportation, and Robert Burchfield spoke on how to experiment in bikeway design, a field with evolving standards and guidance. Shelley Oylear of Washington County talked about designing for suburban environments; Nelson\Nygaard's Jeri Stroupe taught on multimodal integration with transit; and Rebecca Sanders of Toole Design Group and our associate director, Hau Hagedorn, shared their expertise on challenging design problems.
This year we kicked off a brand-new workshop (see photos from 2018) designed for advocates, municipal staff, planners and policymakers interested in building and strengthening communities around walking and bicycling. The instructors were an interdisciplinary mix of managers, planners, engineers and others who create engagement programs that get folks using active transportation options.
Gwen Shaw of Toole Design Group kicked it off with a tour of tactical urbanism initiatives in downtown Portland. Then we took our bikes to Outer NE to get a behind-the-scenes tour of Portland's premiere open streets event Sunday Parkways with Ian Stude and Rich Cassidy of PBOT. The next day TREC's Hau Hagedorn laid some groundwork on Portland's bikeway history, PBOT's Dana Dickman discussed how to create culture change around Vision Zero, and John Landolfe of OHSU and Clint Culpepper of PSU gave a tour of facilities on their respective campuses and shared their transportation demand management (TDM) strategies. Renata Frantum shared Portland's unique process of engaging new and recently moved residents with PBOT's SmartTrips program. Alexis Gabriel of PBOT wrapped the day up with her inclusive approach for communicating the value of active transportation to different audiences. The third day began with a field tour of Portland's Livable Streets Strategies, followed by Sarah Goforth of PBOT outlining the opportunities and considerations in launching an innovative program like Portland's "Transportation Wallet". Marne Duke of Metro shared stories on how to advance TDM strategies on a regional scale. TREC Director Jennifer Dill concluded with insights on effective program evaluation strategies.
Looking Forward to 2019: Workshops and Studying Abroad in the Netherlands
It's only October, but we're already looking forward to meeting next year's IBPI workshop cohorts. Let us know if you'd like to be notified when 2019 workshop dates are announced. We're also excited to announce that we've set dates for next year's Study Abroad Program at PSU: Sustainable Transportation in the Netherlands, June 24–July 5, 2019. Based out of Utrecht and open to both students and professionals, this four-credit, two-week course presents an introduction to sustainable transportation and land use applications in the Dutch context. Let us know if you'd like to be notified when we have more information or when enrollment opens.
Ann Niles Active Transportation Lecture featuring Elise Roy, October 17, 2018 at 5:30
But 2018 isn't over yet! We're now looking forward to the Ann Niles Active Transportation Lecture featuring Elise Roy this month. Elise is a deaf human centered designer, former lawyer, and disruptive innovator. She is a passionate proponent of the notion that when we design for disability, we develop solutions that are better than when we design for the norm. Admission is free with RSVP
If you'd like to stay up to date on other TREC programs, events and research, sign up for our newsletter.
The Transportation Research and Education Center (TREC) at Portland State University is home to the National Institute for Transportation and Communities (NITC), the Initiative for Bicycle and Pedestrian Innovation (IBPI), and other transportation programs. TREC produces research and tools for transportation decision makers, develops K-12 curriculum to expand the diversity and capacity of the workforce, and engages students and young professionals through education.
Share this: