NITC dissertation analyzes how cyclists handle sharing space with pedestrians and cars
Posted on March 11, 2015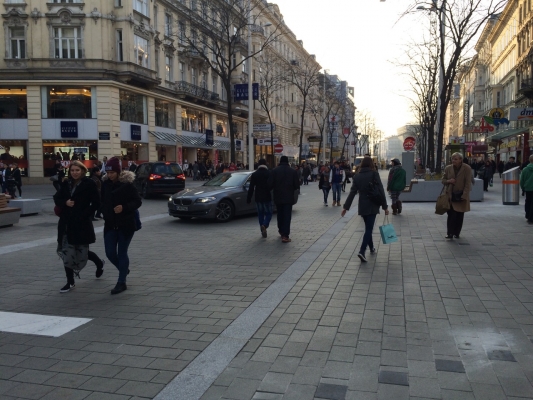 To be published later this spring is some of the first bicycle-focused research into shared space, a controversial urban design approach pioneered in the Netherlands in the 1990s.
Allison Duncan, a PhD candidate in urban studies & planning at Portland State University, earned a NITC dissertation fellowship in 2014 and used the research grant to study shared space intersections in the United Kingdom.
Shared space designs have recently been adopted at a handful of sites in the UK and others scattered across Europe, Australia and New Zealand. They are characterized by a lack of physical guidelines such as curbs, road surface markings and traffic signs to define who has the right-of-way.
The idea is for pedestrians, cars and bicycles to mingle in a common zone and use eye contact and natural communication to make sure no one gets hurt.
"Cyclists and pedestrians are supposed to be able to treat it more like a plaza and just cross where they want to, and drivers are supposed to yield," Duncan said.
As a street design scheme, shared space isn't exactly new. It's more or less the way all streets were designed until the advent of cars, and is still the norm in many Asian countries where cars share the roads with a crowd of two- and three-wheeled vehicles, pedestrians and animal-pulled carts.
But as a design policy introduced to people who have grown up in a world of clearly defined lines, it is new and often unsettling, and has generated heated debate.
Most existing research concentrates on pedestrians and cars, without paying specific attention to how cyclists negotiate shared space.
---
More about NITC dissertation funding
The NITC program is opening a new round of funding for doctoral dissertation fellowships in March 2015, with proposals due in May.
NITC is focused on contributing to transportation projects that support innovations in livability, incorporating safety and environmental sustainability.
Visit the "For Researchers" page for information on funding opportunities and how to apply.
---
She notes variables such as whether they wear a helmet and whether they use the crosswalk or the sidewalk, and maps their progress across the intersection.
"I'm looking to see what are the most common routes people are taking," Duncan said. "I'm seeing a ton of cyclists go out of their way to use the crosswalks and ride on the sidewalks."
The theory is that cyclists should feel comfortable crossing directly through the open space, but so far—awaiting the complete analysis—it doesn't look like that is happening.
"People, from what I'm seeing, are either treating it like they're a car and riding as a vehicular cyclist, or like they're the pedestrian," Duncan said.
The shared space does effectively slow down traffic and, so far, seems to be working for safety. In over a month's worth of data collecting, the only incident Duncan saw was a slow-speed collision between a cyclist and a pedestrian running to catch a bus.
"Even if it's not being used as intended necessarily, it still seems successful; another tool in the traffic-calming toolbox," Duncan said. "Is it the tool that is good for cyclists? That's the question."
With a background in landscape architecture, Duncan was initially fascinated by the concept of shared space because of its openness, "without all of the signs and the curbs and the clutter."
"It's very traditional but it's sort of radical at the same time, because it's completely the opposite end of the spectrum from what we're doing [in the United States]," Duncan said.
Her dissertation is scheduled to be published in the summer of 2015. To receive notifications about the publication of this or other relevant research, sign up for our mailing list and select topics of interest.
Share this: