Portland State University Transportation Research Highlights at TRB 2020
Posted on December 17, 2019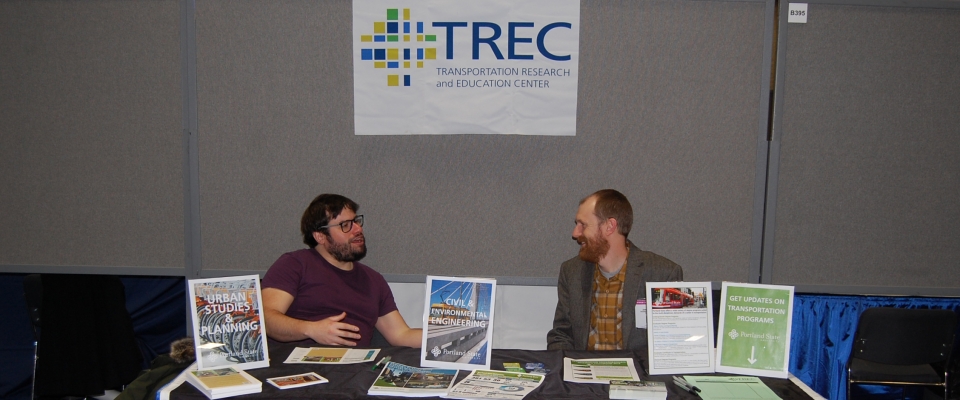 The 99th annual meeting of the Transportation Research Board (TRB) will be held in Washington, D.C. January 12–16, and TREC will be there in force, as is our tradition. Portland State University is sending 14 faculty and staff to present their expertise at TRB, and you can download our full guide here:
DOWNLOAD THE GUIDE TO PSU AT TRB 2020 (PDF)
Here are some highlights of lectern presentations:
PSU students continue to build on a reputation for accomplishment in transportation research. It's a point of pride for faculty members to see their students sharing the stage with the country's top researchers, said TREC Director Jennifer Dill. "It reflects not only the high quality of our students, but the value our faculty see in involving students in research and having them take leadership roles." PSU students are lead or co-authors on 10 papers, and we have 12 PSU students headed to TRB to present, including STEP student leader Katherine Keeling who will be presenting in a lectern session (Session 1616, Current Research in Agriculture and Food Transportation, Tuesday, 3;45) on E-Grocery Home Delivery Impacts on Food Access and Equity: a Portland Case Study.
And of course, lots of research poster sessions where you can chat with the researchers about their work.
Join us Monday, Jan 13th at 8:00 PM for a reception hosted by our research consortium, the National Institute for Transportation and Communities (NITC). The NITC program is a Portland State-led partnership with the Oregon Institute of Technology, University of Arizona, University of Oregon, University of Texas at Arlington and University of Utah.
---
The Transportation Research and Education Center (TREC) at Portland State University is home to the National Institute for Transportation and Communities (NITC), the Initiative for Bicycle and Pedestrian Innovation (IBPI), and other transportation programs. TREC produces research and tools for transportation decision makers, develops K-12 curriculum to expand the diversity and capacity of the workforce, and engages students and professionals through education.
Share this: