Portland State University students enhance Tigard''s walkability
Posted on June 30, 2014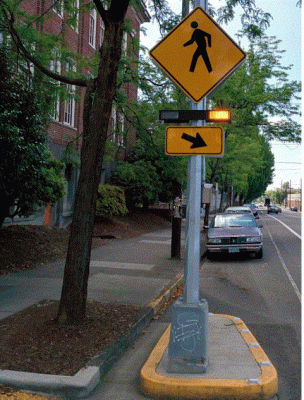 Several notable transportation projects have come out of Portland State University's Master of Urban and Regional Planning (MURP) program this spring.
Each year, graduating students finish up their two-year program of study by forming into groups and carrying out a professional project. Clients work with Portland State University to identify planning needs that would be a good fit for the MURP program, and students choose projects based on their interests.
The Paradigm Planning team made news with their re-imagining of the Salem-Keizer transit system, and InSite Planning Group with their Beaverton corridor study.
The city of Tigard engaged StepUP Studio, another MURP team, to craft a pedestrian plan.
StepUP Studio comprises team members Chase Ballew, Mark Bernard, Jeremy Dalton, Laura Goodrich, Szilvia Hosser-Cox and Steven McAtee.
Their challenge was to make Tigard, Ore.—a city of roughly 48,000 people with three highways running through it—into a walkable place.
The group met with the Tigard City Council March 18 to introduce them to the project. Their proposal for increasing walkability with a heavy reliance on community input supports the city of Tigard's 2014 Strategic Vision, as well as their Comprehensive Plan goal for citizen involvement.
StepUP Studio's community engagement strategies included intercept and online surveys, social media, resident interviews, open houses, walking tours, public presentations and community conversations.
On May 11, the team went to Tigard's first Farmer's Market of the year and talked about walkability strategies with people there, to raise awareness about their project and about other community engagement opportunities.
They worked with Kittleson and Associates, Inc. to create an interactive online map showing many of Tigard's pedestrian and bicycle routes, with the opportunity to select a route and leave comments.
Tigard pedestrians reacted with enthusiastic input, leaving pages of comments. They compared notes on the best trails to walk, as well as pointing out sections that don't connect, places where sidewalks and bike paths end, and intersections that have issues with unsafe crossing.
The final plan, which StepUP presented June 11 to the Tigard Office of Community Development, is available for download here.
The plan outlines five complementary strategies that are designed to be low-cost, outside-the-box solutions to enhance the city's walkability.
The five strategies are:
1. Neighborhood Centers
Tigard's zoning laws allow for mixed-use commercial and residential neighborhood centers, which would provide residents with local destinations to walk to, but few exist. StepUP provided recommendations for where new neighborhood destinations could do the most good.
2. Active Parks and Trails
Parks and trail systems are already the heart of Tigard's pedestrian network. The students put together a guidebook of activities such as walks and runs, community gardens, or summertime movies under the stars to give area residents more reasons to use them.
3. Talk the Walk
With its crisscrossing trails and central downtown, Tigard is already more walkable than most people realize. The team provided materials for communication and education strategies to raise awareness and enthusiasm about walking.
4: Safe Routes to School
Students connected city staff with Kari Schlosshauer, the Pacific Northwest's regional policy manager for the Safe Routes to School program, and provided examples from other cities of how the program works.
5. Simple Signs
Much of Tigard's existing walkable infrastructure is unknown even to nearby residents, in part because neighborhoods often lack adequate signage directed at people on their feet. The team gave recommendations for simple, visible, and frequent signs to help walkers feel more confident about knowing where they're going and how long it will take.
Jeremy Dalton, the group's communication specialist, is excited that Tigard has put walkability at the forefront of its new, updated Strategic Plan, and that StepUP Studio's work plan seems to fit in with that the client wants.
"We got very positive feedback from the city," Dalton said.
Tigard already has a prioritized plan for connecting the pedestrian network, putting in new sidewalks where they are most needed. The strategies provided by StepUP Studio are designed to help make the most of the existing and new infrastructure.
Share this: