Transportation Expertise at PSU: Twenty-Six Researchers Share Findings at Largest Annual Gathering of Transportation Professionals in D.C.
Posted on January 9, 2019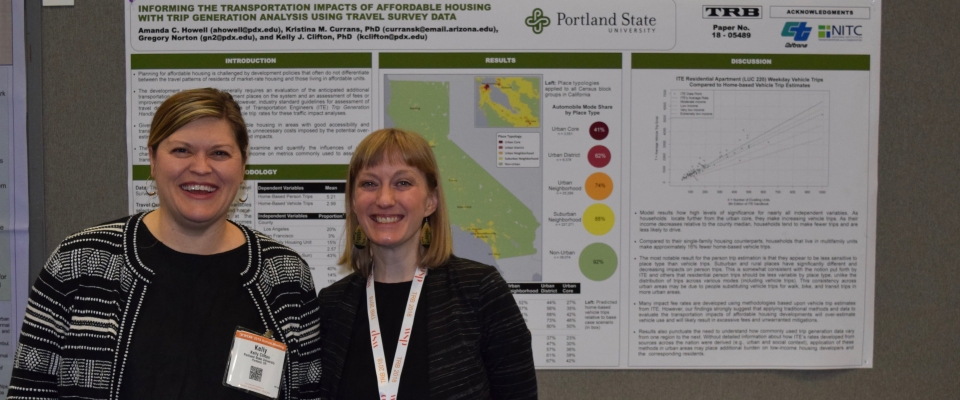 Each year, Portland State University researchers make a showing at the annual meeting of the Transportation Research Board (TRB), and 2019 so far is living up to expectations. See below for a few highlights from the more than 26 PSU researchers (including 11 students) who are presenting this year in D.C., and follow us on Twitter for live updates. See when & where all PSU researchers will be presenting in our handy guide.
Download the PSU at TRB 2019 Guide (PDF).
Also, we invite you to a scavenger hunt: Visit PSU poster sessions to collect all of this year's TREC at TRB sticker variants!
Monday, January 14 (3:45pm–5:30pm)
Current Issues in Alternative Transportation Fuels and Technologies Poster Session
John Macarthur of the Transportation Research & Education Center (TREC) and graduate student Michael Harpool will present "Survey of Oregon Electric Vehicle Owners: Understanding Perceptions, Motivations, and Concerns." Learn more about this research by reading our previous coverage of their final report.
Tuesday, January 15 (10:15am–12:00pm)
Recent Developments and Insights on Economic Development and Productivity Impacts of Transport Poster Session
Jenny Liu of Urban Studies & Planning, along with graduate students Wei Shi and Jamaal Green, will present "A Proposed Framework for Evaluating Economic Development Impacts of Active Transportation Street Improvements." Learn more about her research by watching a webinar from Jenny Liu.
Tuesday, January 15 (1:30pm–3:15pm):
Taking Off the Rose-Colored Glasses: Equitable Access to 21st-Century Mobility Options Lectern Session
 Aaron Golub of Urban Studies & Planning will present "An Equity Assessment of Smart Mobility Systems in Portland, Oregon." Learn more about Golub's Community-Based Assessment of Smart Transportation Needs in the City of Portland.
Tuesday, January 15 (3:45pm–5:30pm)
Traffic Control Devices 2019 Poster Session
Christopher Monsere and Sirisha Kothuri of Civil & Environmental Engineering will present "Evaluation of Driver Comprehension and Visual Attention of the Flashing Yellow Arrow Display for Permissive Right-Turns." Learn more about this research by watching a Friday Transportation Seminar featuring Monsere and David Hurwitz of Oregon State University.
Wednesday, January 16 (8:00am–9:45am)
Travel Demand Models R Us Poster Session
Kelly Clifton of Civil & Environmental Engineering and grad student Jaime Orrego Onate will present "Household Trip Generation And The Built Environment: Does More Density Mean More Trips?" Learn more about Clifton's work in trip generation in this UTC spotlight story.
RELATED EVENT
TRB Aftershock: Thursday, February 7, 2019 (5:30 - 7:30 PM) at Portland State University in the Atrium of the Engineering Building
The Transportation Research and Education Center (TREC) at Portland State University is home to the National Institute for Transportation and Communities (NITC), the Initiative for Bicycle and Pedestrian Innovation (IBPI), and other transportation programs. TREC produces research and tools for transportation decision makers, develops K-12 curriculum to expand the diversity and capacity of the workforce, and engages students and young professionals through education.
Share this: