Seminar explores bicycle-and-transit trips
Posted on June 19, 2013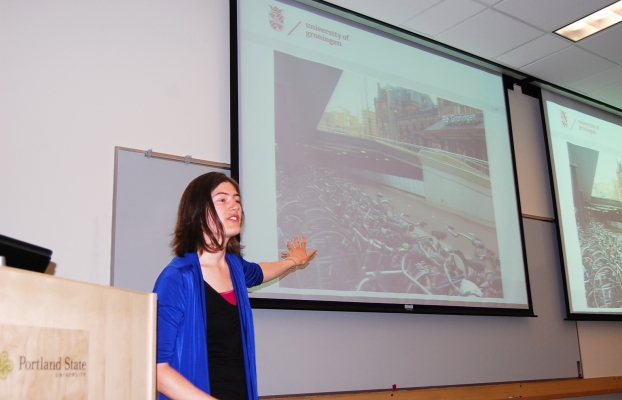 OTREC at Portland State University welcomed Eva Heinen of the University of Groningen, The Netherlands, for a special seminar June 18. Around 40 people attended the presentation, held at the Intelligent Transportation Systems Laboratory and titled "Cycling in the Netherlands and Multi-Modality."
Eva Heinen is assistant professor of infrastructure planning and mobility at the Department of Spatial Planning and Environment, Faculty of Spatial Sciences, University of Groningen. She earned a Ph.D. from Delft University of Technology in 2011 focusing on bicycle commuting.
Many people in Groningen and The Netherlands as a whole combine transit and bicycling for trips. A typical configuration involves cycling from home to a train station and then renting another bicycle to reach the final destination, Heinen said.
Few people take bicycles on transit, Heinen said, and buses don't offer bike racks or other accommodations. Folding bikes, whose compact size allows for portability, are one exception, Heinen said. Electric-assist bikes are also popular, particularly with older people.
Heinen has published many papers on cycling in international and national journals and has a large international network in cycling. She spent three months at the University of California in Davis as a visiting scholar. She is a member of the editorial board of Rooilijn, a Dutch journal for science and policy in spatial planning; a member of the Bicycle Committee; co-chair of the paper and program committee of this committee of the Transportation Research Board; Co-Session Track Organizer for Topic Area F: Transport, Land Use and Sustainability of the World Conference on Transport Research.
Share this: