Two Portland State Students Awarded WTS Transportation Scholarships
Posted on January 19, 2021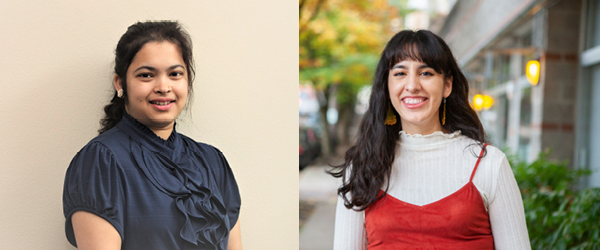 Each year, the Portland Chapter of WTS bestows scholarships to assist exceptional women in their educational pursuits in the field of transportation. The scholarships are competitive and based on the applicant's specific goals, academic achievements, and transportation related activities. Two of the five 2020/2021 scholarship awardees are Portland State University students! WTS Portland will be celebrating all of the awardees during an online happy hour on Wed, January 27th at 5PM (PT) - RSVP here.
Apy Das (Helene M. Overly Memorial Scholarship)
"I strongly believe that diversity and equity are powerful tools at our disposal – we should make sure that everyone feels included and respected and gets a fair and respectful treatment irrespective of their color, race, gender, economic background and language. This only brings positivity and helps with betterment of human beings." - Apy Das
Natalie Chavez (Gail Achterman Leadership Scholarship)
"My focus is transportation within a broader social justice framework. I'd like to focus on safety in active and public transportation, which is different for everyone based on sociocultural factors like race, culture, language, gender identity, sexual identity, citizenship, economic background, and age. There's a consistent disparity in access to transportation and high-quality infrastructure among communities of color and low-income communities." - Natalie Chavez
The Transportation Research and Education Center (TREC) at Portland State University is home to the National Institute for Transportation and Communities (NITC), the Initiative for Bicycle and Pedestrian Innovation (IBPI), and other transportation programs. TREC produces research and tools for transportation decision makers, develops K-12 curriculum to expand the diversity and capacity of the workforce, and engages students and professionals through education.
Share this: