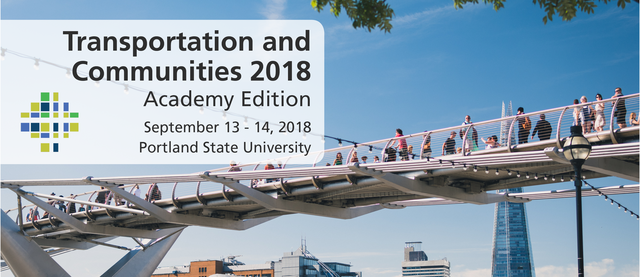 DATE:
Thursday, September 13, 2018, 8:00am PDT

to

Friday, September 14, 2018, 5:00pm PDT
COST:
$95 (general admission); $50 (student rate)
LOCATION:
Smith Memorial Student Union, 1825 SW Broadway, Portland, OR 97201
In honor of our 10-year anniversary, we're trying something a little different. Instead of brief sessions that introduce you to a topic– we will be offering fifteen half-day workshops that focus on skill building and providing the tools to apply the latest research to practice. These will be hands-on, immersive learning experiences in a small classroom setting.
REGISTRATION
This event is a la carte, and pricing is per workshop. You may attend as few as one, or as many as four workshops.
Half-Day Workshop (general admission): $95
Half-Day Workshop (student rate): $50
THE PROGRAM
⇨SEE THE FULL SCHEDULE AND DETAILS
Survey Design: Asking the Right Questions
Bicycle/Pedestrian Focused Signal Timing Strategies: What, When, Where, Why, and How?
Activating Community Opportunities Using Transportation Organizations as Assets
Cost Accounting for Program and Budget Planning Today and Tomorrow
Data Analysis for Smarties Who Forgot What They Learned in College
What's New in the HCM 6th Edition?
Ecological Momentary Assessment Methods with Transportation Disadvantaged Populations
Calculating Economic Development Outcomes of Your Transit System
Integrating Universal Access and Equity into Pedestrian Planning and Design
Managed Lanes and Congestion Relief: From Planning through Design to Operations
R for Transportation Data Science: Application and Best Practices
Slow Street Facilities for Bicyclists and Pedestrians: Advisory Bike Lanes, Bicycle Boulevards and More
An Integrative Framework for Public Transit Services: Operational Efficiency and Access Equity
Pasadena's Experience with VMT as a Transportation Performance Measure
HAPPY HOUR (Sept. 13th at 5:30 PM)
Join us after the workshops on Thursday, Sept. 13th for an informal happy hour at Growler USA. This event is open to the public, not limited to workshop attendees! Growler is a craft microbrew pub located across & down the street from the venue, on the ground floor of PSU's Karl Miller buildling. We'll meet up there around 5:30 pm.
QUESTIONS?
Contact us at asktrec@pdx.edu.
Hosted by the Transportation Research and Education Center at Portland State University. Supported by our U.S. DOT grant-funded program: the National Institute for Transportation and Communities (NITC). NITC is a Portland State-led partnership with the University of Oregon, Oregon Institute of Technology, University of Utah, University of Arizona, and University of Texas at Arlington.
Requests for reasonable accommodations may be made to Conference & Events Office, (503) 725-CONF, email: conferences@pdx.edu or the Disability Resource Center, (503) 725-4150, e-mail: drc@pdx.edu. In order to ensure that reasonable accommodations can be provided in time for this event, please make your requests as soon as possible.