E-Bike laws create widely differing situations for users
Posted on August 28, 2014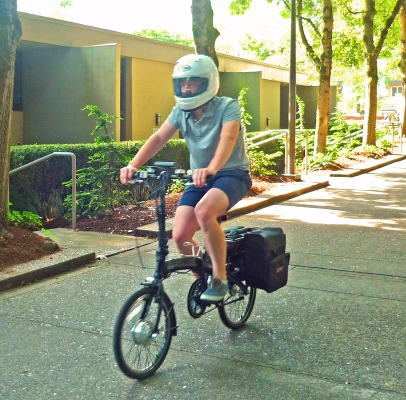 In 2009, researchers at the Massachusetts Institute of Technology (MIT) developed the Copenhagen Wheel, a device that converts an ordinary bicycle into a hybrid e-bike.
An e-bike is considered a motorized bicycle under Massachusetts law. This means that once the 13-pound, 26-inch Copenhagen Wheel is attached to the rear wheel of a bicycle, the resulting vehicle requires a driver's license to operate, must be registered with the DMV, and its rider must wear, not just a bike helmet, but a motorcycle helmet to be in compliance with the law.
Electric bicycles, or e-bikes, are well established in China and other Asian and European countries but market adoption has been slow in the United States.
Part of the reason could be that the law is often nebulous where e-bikes are concerned.
NITC researchers at Portland State University conducted a policy review revealing the current state of legislation regarding e-bikes in the United States and Canada.
The report, Regulations of E-Bikes in North America, provides a summary of legal definitions and requirements surrounding the use of electric-assist bicycles in each of the 50 states, Washington D.C. and 13 Canadian provinces.
No two jurisdictions are exactly alike in their legal treatment of this relatively new mode of transportation.
John MacArthur, the leader of PSU's e-bike research program, co-authored the report with graduate research assistant and fellow e-bike researcher Nick Kobel of Portland State University. MacArthur and Kobel outline the different classifications of e-bikes—scooter-style, bicycle-style, throttle or pedal assist—and explore potential conflicts that some of the regulations may cause for the adoption of this technology.
MacArthur believes that the e-bike has the potential to get more people out of their cars and biking, as the electric propulsion assistance makes it easier to overcome hills and long distances. This paper is part of a larger project in which MacArthur and Jennifer Dill are evaluating e-bike use by putting Kaiser Permanente employees on e-bikes.
Surveyed users of e-bikes report that the power boost helps them arrive less tired and sweaty at their destination, making it a more comfortable commute option. Legal requirements like wearing a helmet, registering the vehicle, getting a license to operate it, and not being able to ride it on bicycle paths and trails may be a deterrent.
E-bikes typically resemble a standard pedal bicycle with the addition of a rechargeable battery and electric motor to assist the rider with propulsion. In Europe they are commonly called pedelecs, for pedal electric bicycle. At least twelve states currently classify an e-bike as a motor vehicle.
The report represents a significant first step in developing a logical, practical approach to legally defining this mode of transportation and the safety precautions that should accompany it. For more information, visit the project page, where there will be more reports coming as research continues.
Share this: