TREC wins $945,000 FTA emergency response grant
Posted on February 20, 2015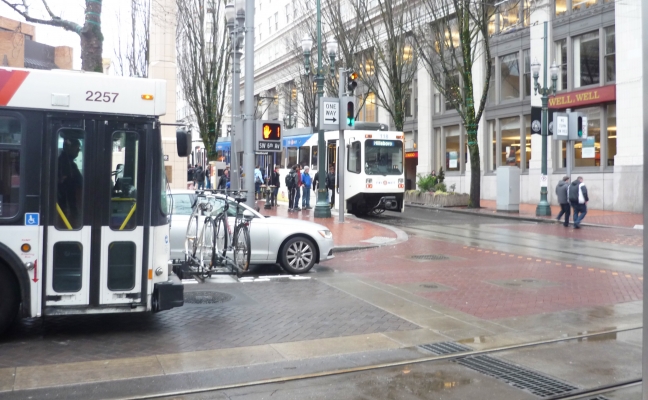 The Federal Transit Administration has announced a $945,000 grant for a Portland State University project to help transportation agencies respond to regional emergencies. The project is led by TREC, with partners TriMet, the Portland Bureau of Emergency Management and Metro.
The announcement came as part of $29 million in grants through the FTA's Innovative Safety, Resiliency, and All-Hazards Emergency Response and Recovery Demonstration program. The grants will help transit agencies improve safety, better withstand natural disasters, and respond more effectively to emergencies. A list of selected projects is available online.

The TREC project will develop and test a transportation demand management system that uses social media and intelligent transportation systems for large-scale emergency response and recovery. While managing demand is a cornerstone of campaigns to reduce private vehicle trips, it is often absent from emergency recovery plans, said project lead John MacArthur of TREC.
"This looks at how transit can be a reliable backbone to keep a city functioning," MacArthur said. "That means during the response period, but also during recovery, which can last a long time."

Agency partners expressed enthusiasm for the collaborative approach to an issue they all face.
"TriMet provides shelter buses for small-scale emergencies such as apartment fires, but after a large-scale incident such as an earthquake, TriMet will be critical in helping get the region moving again, getting workers back to their job sites, getting residents to needed resources," said Harry Saporta, TriMet executive director of safety and security. "This grant will help our region plan effectively for those challenges." 
In addition to setting up a system in the Portland area, the project will also help up to six other agencies across the country implement their own systems.
The Portland State grant is one of 13 grants in nine states and the only one in the Northwest. The projects reflect the safety focus of the entire U.S. Department of Transportation, said Transportation Secretary Anthony Foxx. "Safety is our highest priority at DOT, and we are committed to ensuring that public transportation remains one of the safest ways to travel in the United States," Foxx said.

"These grants will help transit agencies utilize the latest, most innovative technologies available to reduce collisions, protect track workers, improve operations during emergencies and natural disasters, and maintain equipment and infrastructure."
Share this: