What Makes Transportation Unique at Portland State University?
Posted on December 6, 2018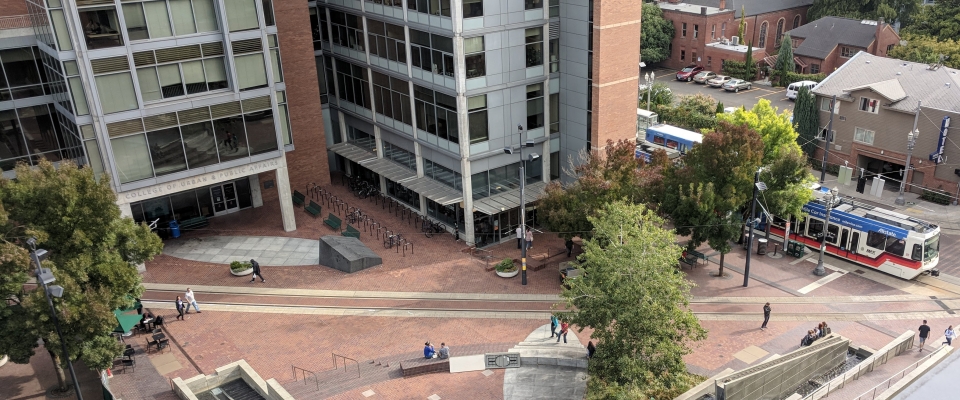 Transportation defines Portland, Oregon. Portland State University (PSU) shapes transportation professionals who, in turn, shape cities across the world. Our students conduct cutting-edge research under the guidance of the world's foremost transportation research faculty at PSU - from both the Toulan School of Urban Studies & Planning and the department of Civil & Environmental Engineering of MCECS.
WHAT MAKES TRANSPORTATION UNIQUE AT PORTLAND STATE UNIVERSITY (PSU)?
TRANSPORTATION DEGREE PROGRAMS AT PSU & HOW TO APPLY
Portland State offers a wide variety of degree programs suited to the multi-disciplinary demands of a career in transportation. Curious about the courses offered? See an overview of graduate courses in transportation at Portland State.
Undergraduate Degree Programs
We offer undergraduate programs in civil engineering, supply and logistics management, and community development, which lay the foundation for our transportation graduate programs.
Graduate Degree Programs (Professional)
Master of Urban and Regional Planning is a two-year, 72 credit professional degree program designed for those interested in working as professional planners. Admissions are accepted for fall term only. The deadline for Fall 2019 is January 15. Join us for an online info session Thursday, December 13.
Master of Engineering in Civil and Environmental Engineering is a non-research based professional degree designed to put you on track for careers shaping the future of transportation with local governments, consulting firms and other organizations. The priority deadline for the fall term is January 7.
Graduate Degree Programs (Research)
The Master of Science in Civil and Environmental Engineering (apply by January 7) and the Master of Urban Studies (apply by January 17) are suited for those seeking careers in a broad range of transportation professions or in academia.
Graduate Dual Degree Program in Transportation
For those seeking a degree rooted in both transportation planning and engineering, we offer a Dual Master's Degree Program in Transportation, allowing students to obtain a Master of Urban and Regional Planning and Master of Science in Civil Engineering at the same time. Students should connect with advisors, as dual degree options require careful planning. Email askusp@pdx.edu if you are interested in learning more about these programs.
Graduate Certificate in Transportation
The two disciplines also collaborate to offer a Graduate Certificate in Transportation for established professionals looking for a deeper understanding of transportation disciplines.
Doctoral Degree Programs
Our Ph.D. in Civil and Environmental Engineering and the Ph.D. in Urban Studies, help shape researchers into the top experts in their fields. Portland State students publish as lead authors at a greater rate than most universities and are disproportionately represented at forums including the annual meeting of the Transportation Research Board of the National Academies.
The Transportation Research and Education Center (TREC) at Portland State University is home to the National Institute for Transportation and Communities (NITC), the Initiative for Bicycle and Pedestrian Innovation (IBPI), and other transportation programs. TREC produces research and tools for transportation decision makers, develops K-12 curriculum to expand the diversity and capacity of the workforce, and engages students and young professionals through education.
Share this: