Nine Portland State University graduate students will receive Eisenhower Fellowships presented by the U.S. Department of Transportation at next year's annual meeting of the Transportation Research Board (TRB): Phillip Longenecker, Nicholas Puczkowskyj and Baxter Shandobil of the Nohad Toulan School of Urban Studies and Planning, and Gabby Abou-Zeid, Travis Glick, Katherine Keeling, Mike McQueen, Greg Norton and Jaclyn Schaefer of the Department of Civil and Environmental Engineering at Portland State University.
This is the second Eisenhower award for Baxter Shandobil and Mike McQueen, who were awarded the fellowship in 2019 also. Travis Glick and Greg Norton both won Eisenhower fellowships the past two years, making 2020 their third year in a row to earn the prestigous award. Meet the PSU Eisenhower Fellows of 2018, and the Eisenhower Fellows of 2019.
===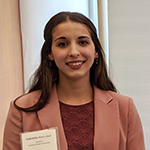 Gabby Abou-Zeid is a first-year graduate student pursuing her M.S. in civil engineering at Portland State University and working with Dr. Kelly Clifton's SUPER (Sustainable Urban Planning & Engineering Research) Lab.  Her...
Read more